---
SATURDAY, APRIL 8, 2023
HOLMES STUDENT CENTER
NOTHERN ILLINOIS UNIVERSITY
DEKALB, IL
Artist Alley 2023
Please read all of the information before you apply for the Artist Alley.
An application form will be available after.
As of Karoshi-Con 2023, we will no longer follow a first-come, first-serve policy for the Artist Alley. We hope to ensure a level of local artists are represented at Karoshi-Con. A limited number of vendors will be accepted. To apply for a table at the Artist Alley, please read through the entirety of this page before filling out and submitting an application.You are required to submit to at least one of these below. Providing more than one will help us approve your application faster.
Link to an online store or shop of previous/current works (this shop does not have to be currently open)

Link to social media platform (such as Facebook, Instagram, Linktree) that has been active in the previous six months

Google drive link to a folder of at least 6 items of art or merchandise you intend to sell (can be samples or prototype items) that can be viewed
Karoshi-Con is a family friendly convention. All art pieces and merchandise will be held to a PG-13 standard. Mature materials will not be allowed to be displayed.If you have questions about products you wish to sell, contact us at our email with images or merchandise questions.
Absolutely no gore, violence, sexual, or explicit content is allowed

No unpackaged items, or homemade food, snacks, or drinks are allowed to be sold

WE WILL NOT ALLOW THE SALE OF REPLICA WEAPONS, OR FAKE WEAPONS OF ANY KIND ON PREMESIS. THIS IS A UNIVERSITY RULE. DO NOT BRING THEM.
Tables
Tables measure at 8 ft long, 30 inches across.

Tables are uncovered.

Two chairs are available per table. Keep in mind space behind tables is limited.

Outlets are available, but they must be requested in your application. Proximity to electricity and outlets are only available in specific areas in the ballroom.
16x10 Foot Area
16x10 freestanding area

Provided with two tables and two chairs. You may rearrange them in the space or remove them.

This is optimal for bringing freestanding items (clothes rack, stands, shelves, or smaller tables) that can accommodate a 16x10 space.

Space for 16x10 areas is limited.
1 Table - $20.002 Tables - $40.0016x10 Ft. Area - $60.00
Payment for space:PayPal: Pay for your table space ahead of time. Payable via invoice sent from us.Cash - payment due on convention day check-in
Applications Open: January 21stApplications Close: February 15thResults: February 16th-22nd
Convention Day: April 8
Payment invoicing information will be sent with confirmation and acceptance emails.
Cash payments will also be accepted on the day of.We will send you a form to fill out for how many badges you will need for people working your space.Important information on parking, directions, and check-in instructions leading up to the convention day will also be available.
Hall Open Hours: 10:00 AM - 6:00 PMCheck-in will begin at 8:00 AM.For parking information, please read this page.You will follow signs to the Duke Ellington Ballroom,
There will be a Check-in table to receive convention badges and directed to where your table is.Electronic payment due ahead of time, or cash payment for space is due upon check-in.You are responsible for your merchandise that you bring into the center.
Location: Duke Ellington Ballroom
Hours: 10:00 am - 6:00 pm
Registration 2023
Here's how you can sign up to enjoy the fun that Karoshi-Con has to offer!Upon entering the venue, follow signs for Registration (Capitol South), and line up for Pre-Registration or Day-of Registration.You will be able to sign up and receive a badge here, or pick-up if you have pre-registered.
Registration Rules• Admission badges are free!• A state ID is not required for badge registration.• Adults/guardians can sign up children with the same emergency contact information.• Children under the age of 5 do not require a badge as long as they are accompanied by a guardian that is registering.• Your Karoshi-Con badge must be displayed at all times in the convention area.
Pre-Register InformationPre-registration will allow us to have your information on hand for a quick and expedited sign-up process. Simply give us the name you signed up with and you will be ready!
Pre-Registration is not open at this time.
---
Location: Capitol Room South
Hours: 10:00 AM - 5:30 PM
Panels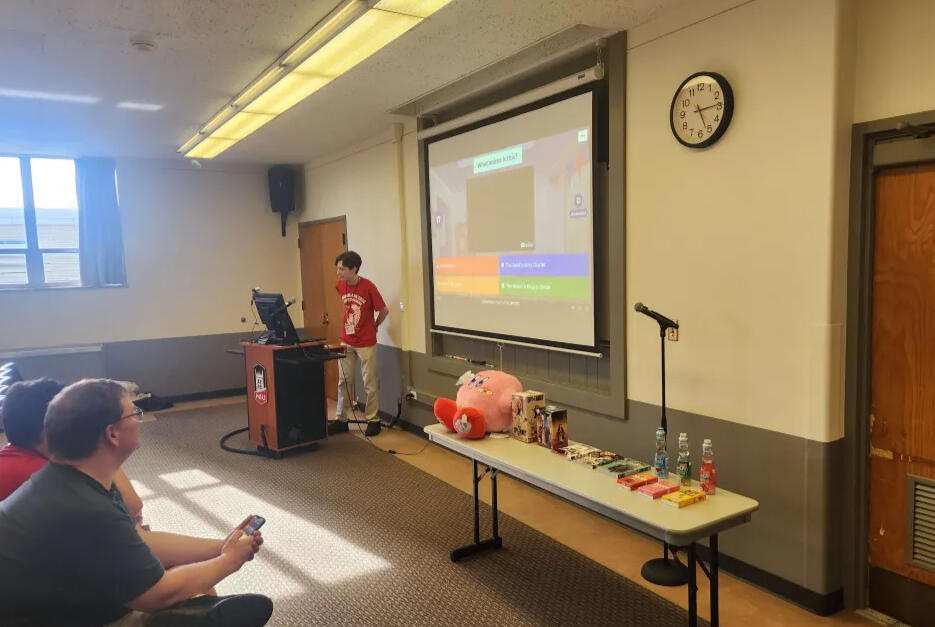 Karoshi-Con panels are short presentations done by attendees at the convention, or done by our special guests. In the past we have included a variety of panels ranging from cosplay tips, voice acting, and interactive games.
Panels typically last from one hour to an hour and a half.
Interested in hosting an informative panel or presentation? Here's where you can do that.
Apply for a Panel
Keep in mind that panels need to be suitable for a PG-13 environment.

You can request for up to one hour and 30 minutes for panel length, or as little as 30 minutes or 45 minutes.

Each panel room will be accompanied with a projector, or television screen. Sound system, two microphones, and connections for VGA and HMDI inputs. There will also be a table for your use in the room.

We will provide technology accommodations only. Any other items are the responsibility of the host.
Panel Applications Open January 21
Main Events
Main events coming soon
Cosplay Contest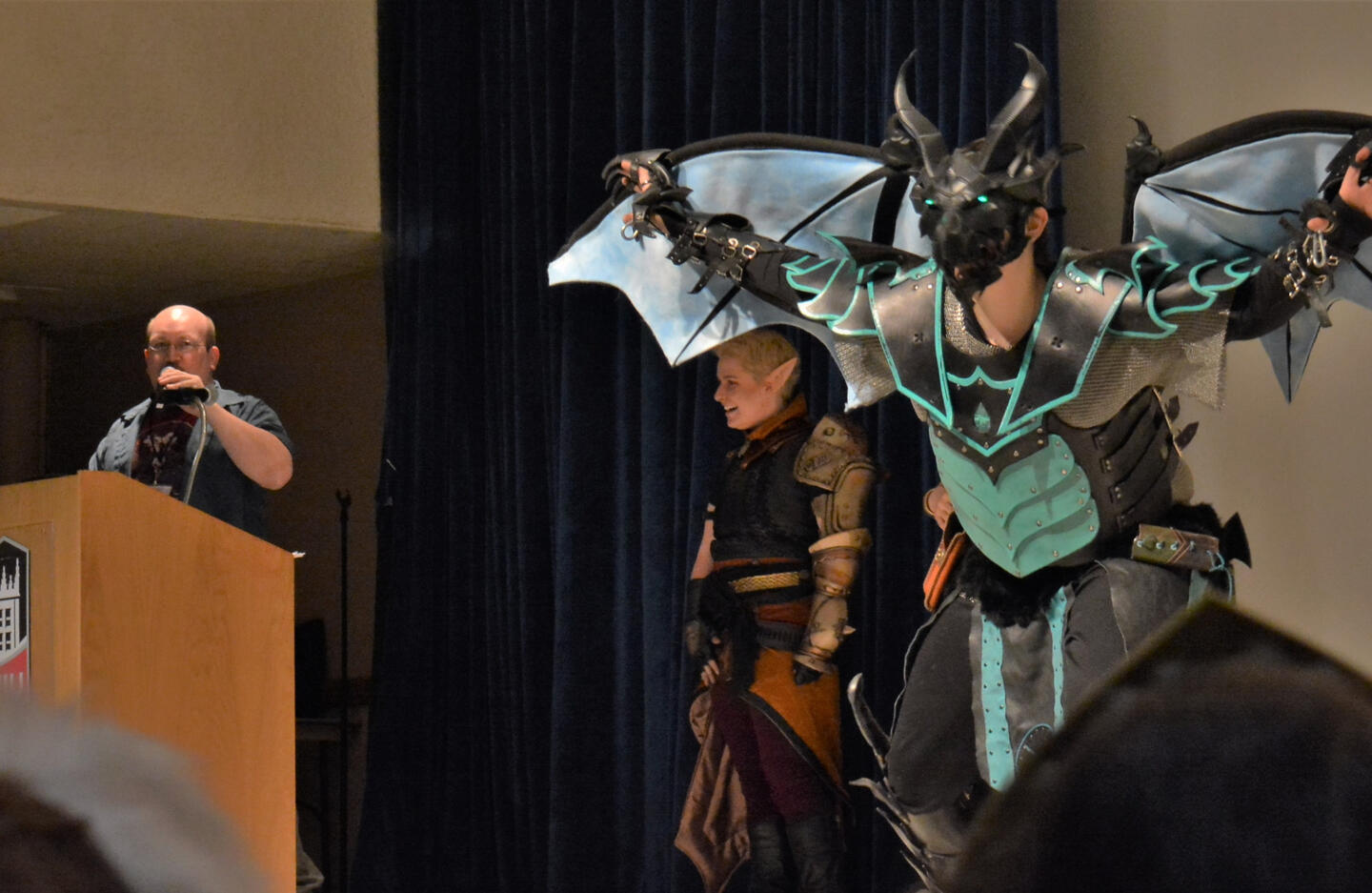 We invite you to join our cosplay contest held every year. You will have the opportunity to walk on stage and show off your costume. There will be prizes!Interested participants will be asked to sign up and answer a brief questionairre about their cosplay. Contestants will be expected to arrive in the auditorium at 6:30 PM to receive instructions.There will be prizes!!! You can sign up at the Con-Ops staff desk in the Artist & Vendor Hall.
---
Location: Carl Sandburg Auditorium
Hours: 7:00 PM - 8:00 PM
Video Gaming Room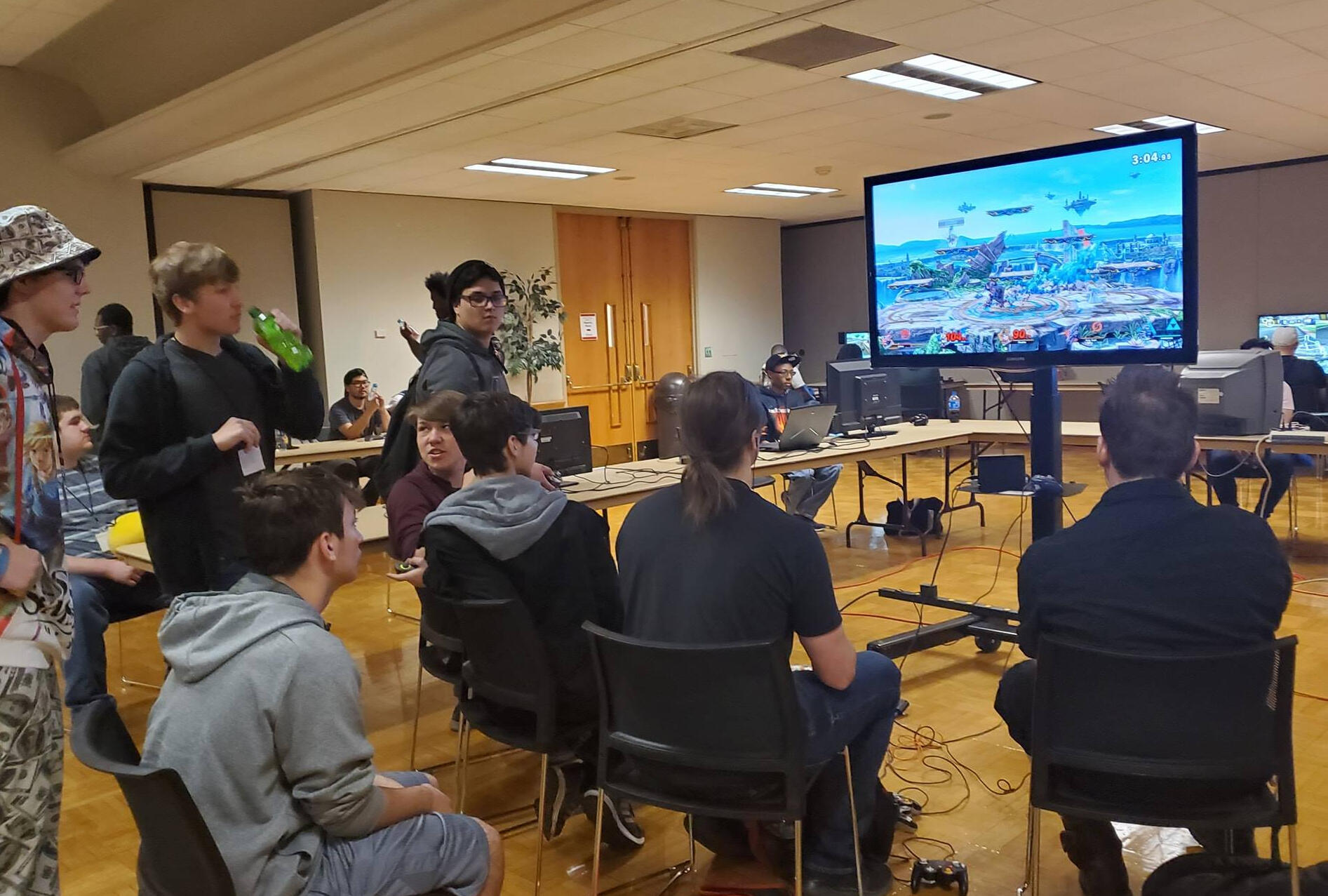 Our video game room will have an array of video games to try! We will have classic games and the latest! Come join for open play during our open hours, and look out for tournaments hosted throughout the day.Room Rules
• You must have an ID to utilize equipment.
• Guests must also sign out the game that they will be using.
• This is limited to one game at a time
• Misuse/mishandling of equipment will result in ejection from the room.
• Report any damaged items or technical difficulties to a staff member.
• Do not attempt to get any equipment or games yourself, please ask a staff member to do so.
• Inappropriate or unsportsmanlike behavior will not be tolerated. Physical and verbal abuse can result in ejection from the room.
• Theft will result in involvement of the police and ejection from the con.
---
Location: Regency Room
Hours: 10:00 AM - 6:00 PM
Traditional Gaming Room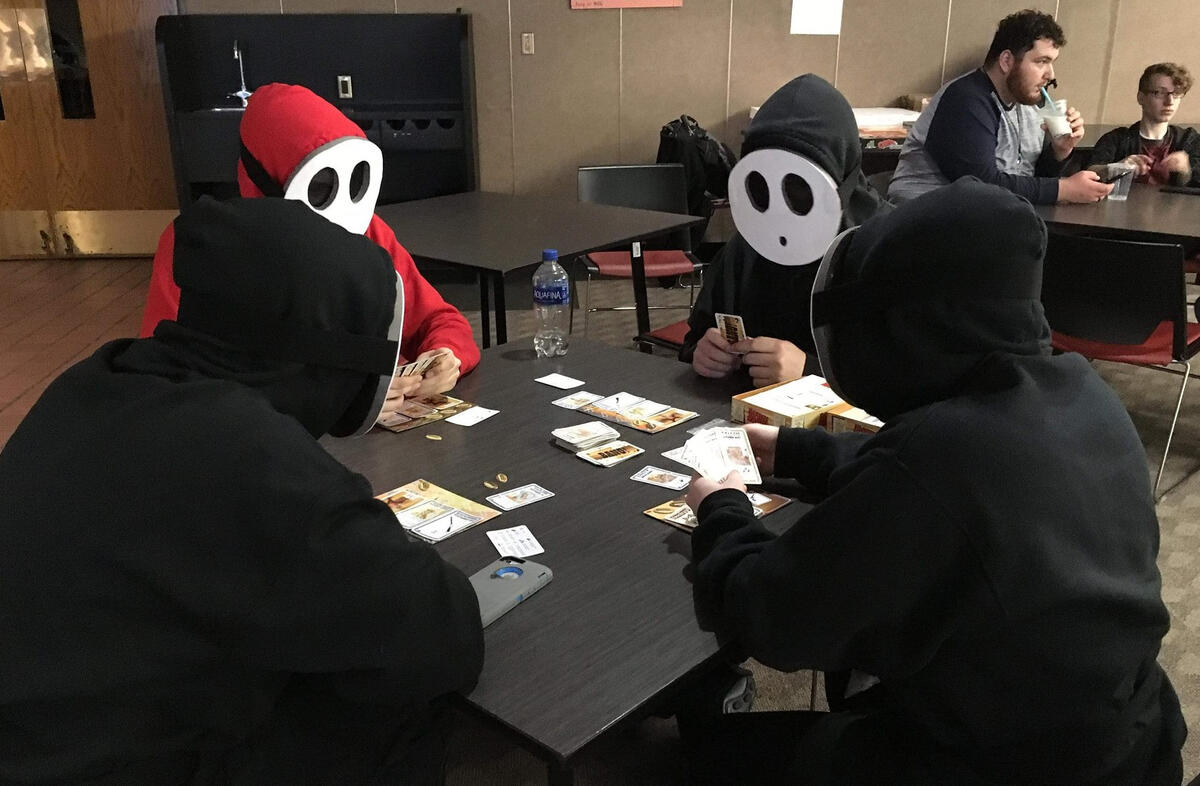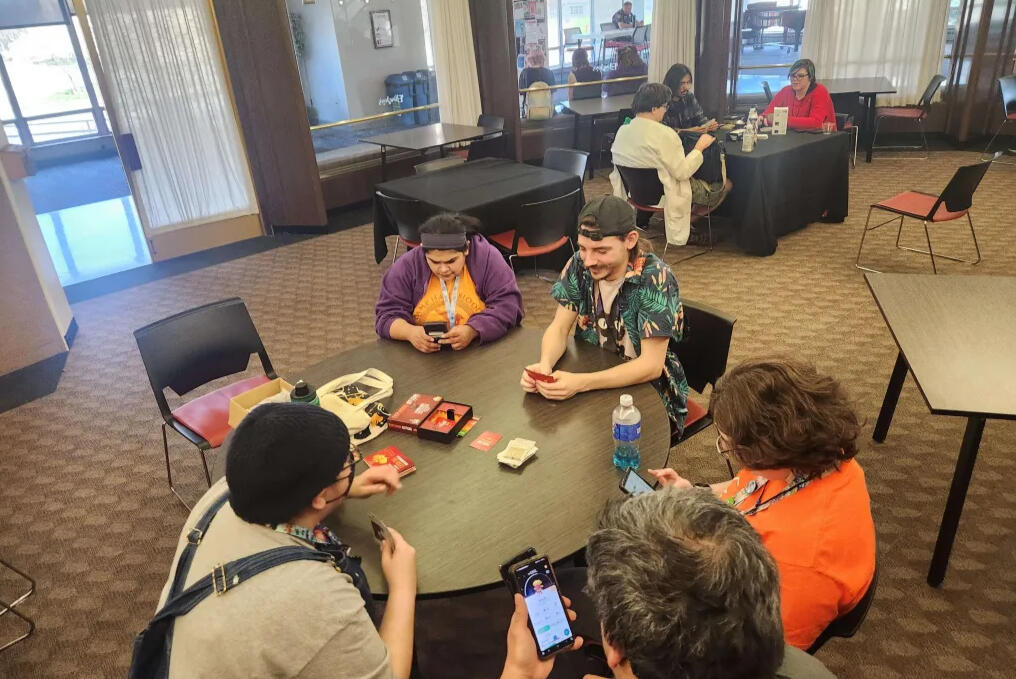 The Traditional Gaming room contains numerous board and card games for all to try out. Enjoy games such as Munchkin, Apples to Apples, Exploding Kittens, and many more! Feel free to grab some friends and head on over; there is open gaming all day!Room Rules
• You must have an ID to play games.
• Please ask the staff for any games you would like to play.
• You may sign out one game at a time.
• Do not mistreat games.
• Report any damaged items to a staff member.
• Theft will result in involvement of the police and ejection from the con.
---
Location: Ellington's
Hours: 10:00 AM - 6:00 PM
Karaoke Room
Coming Soon.
---
Location:
Hours:
Special Guests
Coming Soon.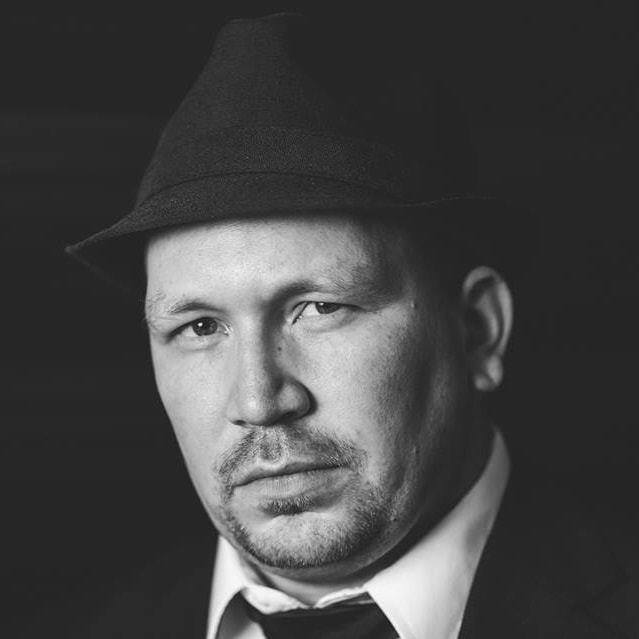 Lucas Schuneman
Lucas Schuneman is happy to be making his eleventh return appearance to Karoshi-Con!A character voice actor with over a decade of experience, Lucas can be heard in titles like One Piece as Vice-Admiral Onigumo, Legend Of Galactic Heroes - Die Neue These as Negroponte, Ikebukuro West Gate Park as Kouzou Tsukamoto, Death Battle as both The Joker & Goro, Warframe as Nef Anyo, Tyl Regor & The Treasurer, Wasteland 3 as The Patriarch, Clash Royale as The Bowler, Lost In Random as Seemore & The Duke and Desperados 3 as Hector Mendoza. He has also recorded with over 100 brands and companies including The Onion, YouTube Gaming, Warner Brothers Music, Illinois Lottery, Louisville Sluggers, Orbitz, Walmart, Turtle Wax, Hormel, and The Huffington Post.
---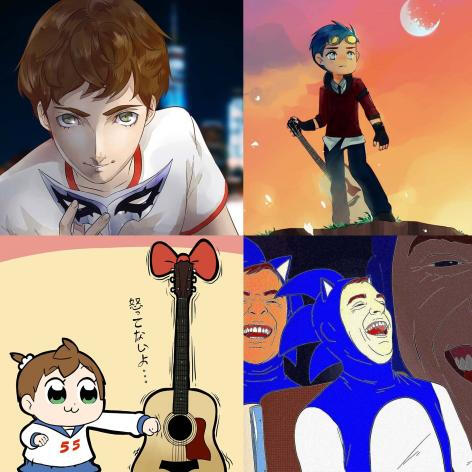 Kid Yuki
Kid Yuki is a Chicago-based anime and video game cover musician who is totally not just lazily cosplaying Koyuki from Beck (don't look that up).Kid Yuki streams weekly on Twitch with anime and drum covers.Come rock out or just chill to some of your favorite anime openings and video game tracks at his acoustic show panel.
---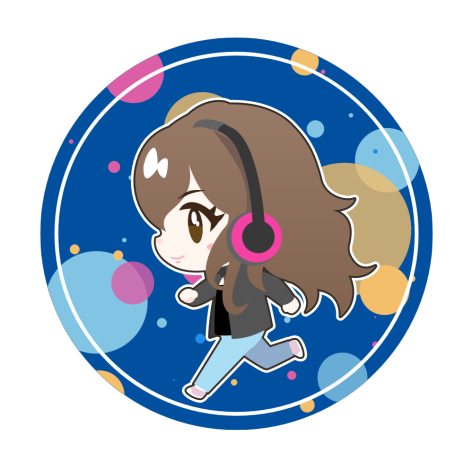 Amaya
Amaya has been singing and performing online covers for almost 15 years! In 2015, she met Kid Yuki, they did an cover collab, and became part of the band, Kid Yuki and the Otakus. The rest is history! Amaya is excited to perform with Kid Yuki as part of a live acoustic duo once again, and is looking forward to seeing what songs Karoshi-Con will request.Amaya will be performing at the acoustic request show panel with Kid Yuki.
---
Cosplay Judges
---
---
Sponsors
---
DaSueDragon DesignsMaker of fine high-quality, hand-crafted leather bags, accessories, cosplay and more! Also a proud NIU Alumni! DaSueDragon Designs is a longtime sponsor of Karoshi-Con and supporter of our cosplay contest. For amazingly constructed accessories and cosplay pieces, we recommend you visit their Etsy and Facebook page listed above.
---

There's Fun in StoreThere's Fun In Store is a growing local company with locations in Downtown DeKalb as well as Elgin. We feature a robust selection of toys and games presented beautifully in our aesthetic stores. We promise to put a smile on your face.
Come check out our wall of thousands of retro and modern video games! Or you can use our massive touchscreen kiosk to browse our websites selection of over six million Pokémon, Magic, and YuGiOh cards! We also have an extensive selection of tabletop games, plush, popits, lanyards, and more! There's Fun In Store and we mean it!
---
Arda Wigs is a Chicago-based wig company that was established in 2009. They are dedicated to bringing cosplayers and wig enthusiasts wig styles wearable on any head type, as well as being realistic and easy to style. Most styles are made with a full 23-inch circumference cap size to accommodate large heads and/or thick hair. Flash photos will not produce a blinding, unrealistic shine. Arda is also known for their customer service, fast shipping, and product quality.
---
Interested in being a Sponsor for Karoshi-Con?Contact us at our email and let's talk about what we can do for each other!
Donate to the NIU Anime Association
Schedules
Schedule coming soon
| Event | Location | Time |
| --- | --- | --- |
| Traditional Game Room | Ellington's | 10:00 AM - 6:00 PM |
| Video Game Room | Regency | 10:00 AM - 6:00 PM |
| Artist & Vendor Hall | Duke Ellington Ballroom | 10:00 AM - 6:00 PM |
| Registration | Capitol Room | 10:00 AM - 5:30 PM |
| Event Name | Location | Time |
| --- | --- | --- |
| Who Wants to Be a Voice Actor? w/Lucas Schuneman | Illinois Room | 11:00AM-12:30PM |
| Anime Jukebox - Acoustic Request Show w/Kid Yuki & Amaya | Glass Gallery | 1:30PM-2:30PM |
| Character Creation w/Lucas Schuneman | Illinois Room | 2:30PM-4:00PM |
| Weeblash: Anime Quiplash (13+) w/Kid Yuki | Glass Gallery | 4:00PM-5:00PM |
| Cosplay Contest | Carl Sandburg Auditorium | 5:30PM-6:30PM |
| Event Name | Location | Time |
| --- | --- | --- |
| Anime Jeopardy! | Glass Gallery | 12:00PM-1:00PM |
| Lolita Fashion for Beginners | Lincoln Room | 12:30PM-1:30PM |
| Whose Line is it Anime? | Illinois Room | 1:00PM-2:00PM |
| El Anime, Japon, y you | Lincoln Room | 1:30PM-2:30PM |
| West Side Story to BTS: How dance changed pop culture and social media | Lincoln Room | 2:30PM-3:15PM |
| Professor Juniper's Pokémonology | Glass Gallery | 3:00PM-4:00PM |
| Roleplay for Idiots | Lincoln Room | 3:30PM-4:15PM |
| KPop Random Dance Play | Lincoln Room | 4:30PM-6:00PM |
| JoJo's Bizarre Family Feud | Illinois Room | 5:00PM-6:00PM |
| Pitch Your Anime | Glass Gallery | 5:30PM-6:30PM |
Map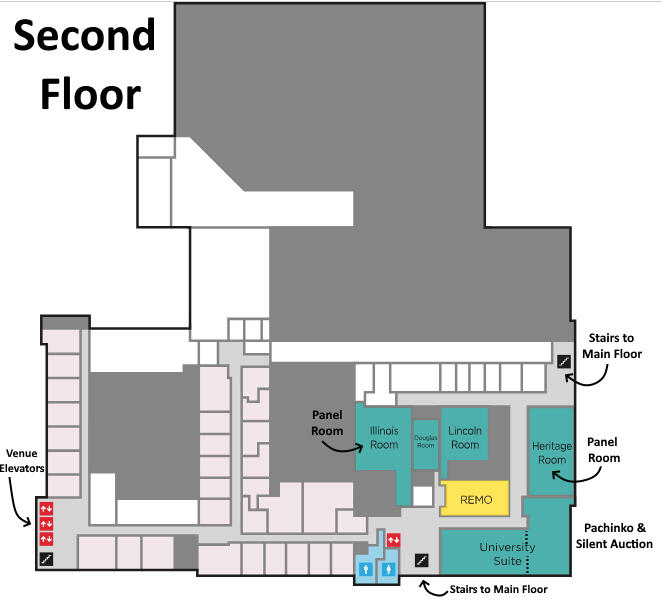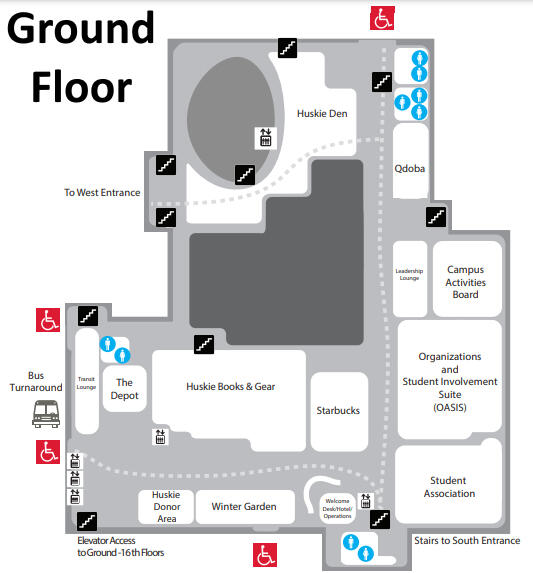 Rules
General Rules• This is a family friendly convention. Please keep your actions appropriate.• Northern Illinois University own the Holmes Student Center. Please respect any state, local, and NIU laws and policies.• A badge must be displayed at all times while partici-
pating in the convention areas.•Children under the age of 12 must be accompanied by an adult at all times.•Respect your fellow con-goers. DO NOT touch or take pictures of people without their consent. If they say no, it means no.
Cosplay Rules• NO WEAPONS. No prop firearms, nerf guns, or model guns. No replica swords or anything that resembles a weapon. You will be asked to remove it from the campus grounds immediately. No exceptions. Karoshi-Con Staff have the right to ask you to remove the prop from the venue. This is a NIU rule that must be upheld.• Any props brought to the convention must be seen and approved in the Registration Room.• No obscenity in clothing. Remember this is a family friendly event.•Footwear is required.•Costume wear may not hinder anyone's path near them or entrances.
Information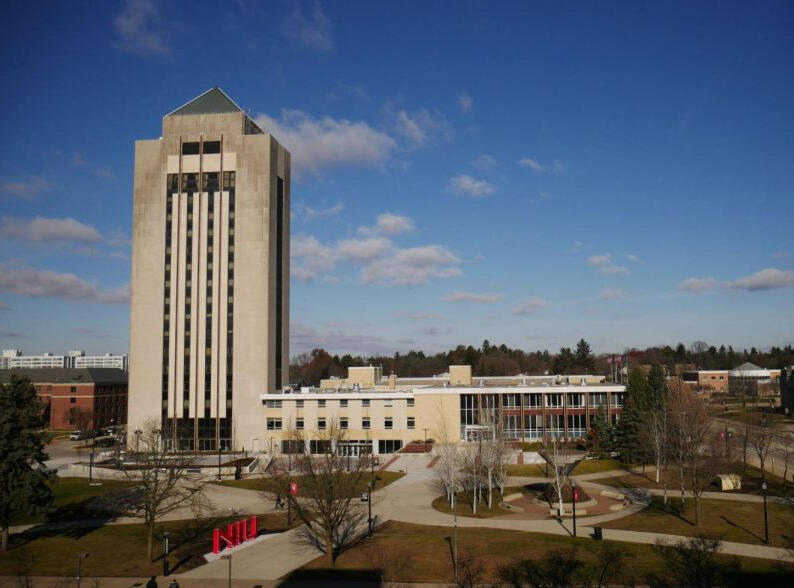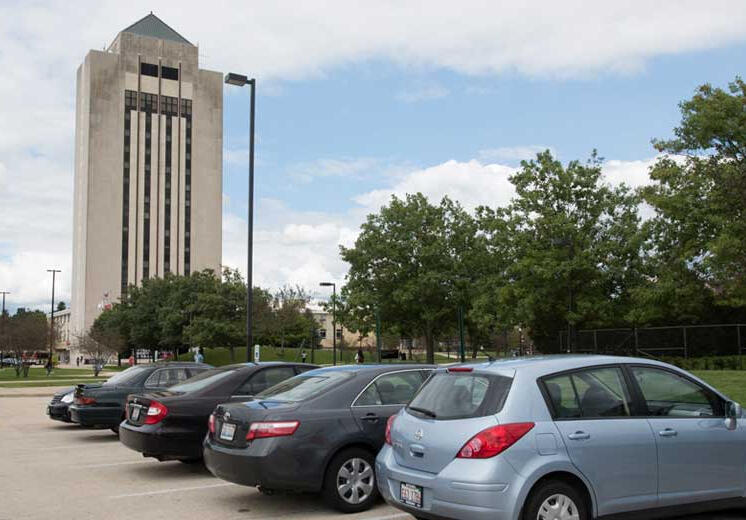 Directions to Dekalb, IL and maps available here on the NIU website.
LocationKaroshi-Con is located in the Holmes Student Center at Northern Illinois University (HSC).Holmes Student Center address:
340 Carroll Avenue Dekalb, IL 60115
ParkingThe Holmes Student Center has free parking on weekends. There are two prime locations for parking near the HSC. Both are accessible on Carroll Avenue.a) Visitor Pay Lot located 0.3 miles South of the HSC located at 121 Carroll Avenue DeKalb, IL 60115b) NIU Parking Garage located at 199 Carroll Avenue Dekalb, IL 60115
FoodStarbucks is located in the lower level of the Holmes Student Center.There are many restaurants that are available on or near campus.
Send us an email at
[email protected]
If inquiring about a specific topic, please include that in the message subject.
Convention Questions
WHAT IS KAROSHI-CON?Karoshi-Con is an anime convention. An anime convention is an event that promotes Japanese animated television shows ("anime"). Animes have many genres, and is created for many different age groups. At Karoshi-Con we also embrace other pop culture topics like video games, comics, tabletop gaming, music, karaoke, and cosplay.
IS KAROSHI-CON FOR KIDS?Karoshi-Con is suitable for all ages. We encourage that adults bring their children or extended family members. Children under the age of 12 years old should be accompanied by a guardian or family member. Adults are also welcome to enjoy the convention. Any content at Karoshi-Con is strictly at a PG-13 level.
WHAT IS THE COST OF ADMISSION TO KAROSHI-CON?Karoshi-Con is free and it is open to anyone. You can be a student, adult, local to DeKalb, or visiting from another city.
HOW DO I REGISTER FOR KAROSHI-CON?Click here to be taken to our registration page. Here you can learn how to sign up yourself, or others and a little about the registration process.
WHEN DOES KAROSHI-CON OPEN/CLOSE?Karoshi-Con doors open at 9:00 AM. Registration opens formally at 10:00 AM, and most convention activities begin at 10:00 AM.Most activities cease at 6:00 PM. The cosplay contest will be the last event, and takes place 7:00 PM - 8:00 PM.
WHERE CAN I FIND A MAP OF THE CONVENTION?Venue maps are located here.
CAN I WEAR A COSTUME?Yes! We encourage anyone to wear a costume. You do not need to wear anime-related costume. You can wear any outfit you like from any show, series, book, or movie. You can also wear a Halloween costume, dress, or fancy outfit.There are some costume guidelines you can read about them here.
CAN I BRING A PROP OR A WEAPON WITH MY COSTUME?The answer is no. It is a Northern Illinois University rule that there will not be any props that resemble a weapon allowed at the convention or campus. If noticed by staff, you will be asked politely to remove it from the convention area or put in a vehicle. If we have to ask again, we will ask you to leave or have intervention from venue security. Please take this rule seriously!We will NOT allow any real weapon, steel, replica weapon, fake weapon, foam weapon, long staff, long stick, toy gun, or any item that resembles a weapon or prop that could injure someone.
HOW CAN I SELL MY ART AT THE CONVENTION?You can read all about the Artist & Vendor Hall at this page here, which includes information about applying.
HOW CAN I RUN A PANEL AT KAROSH-CON?Yes, you can. Read information about panel guidelines and the panel application at this page here.